Adipurush: Kriti Sanon open ups on playing the role of Janaki: 'It made me believe more on…'
At the trailer launch of Adipurush, Kriti Sanon got candid about playing the divine role of Janaki. She also shared how the movie has impacted her personal life as well. Read on to know. After battling with criticism the trailer of Adipurush is finally released today and it has impressed the audience. The trailer earlier […]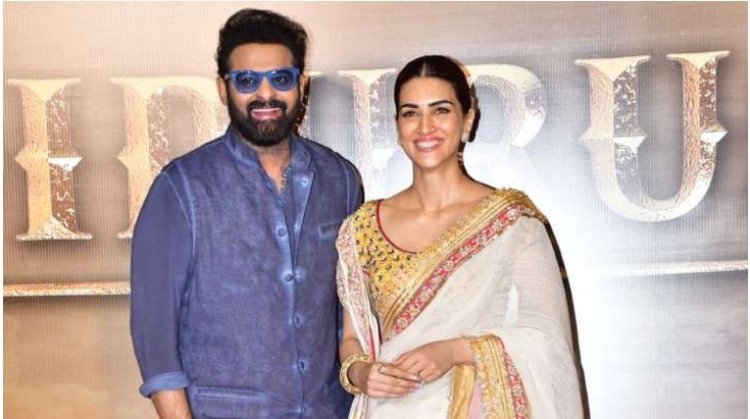 At the trailer launch of Adipurush, Kriti Sanon got candid about playing the divine role of Janaki. She also shared how the movie has impacted her personal life as well. Read on to know.
After battling with criticism the trailer of Adipurush is finally released today and it has impressed the audience. The trailer earlier faced trolling for its poor VFX but this time, the team has definitely worked on that. Headlined by Om Raut, the movie is a mythological drama based on the epic Ramayana. The film stars Prabhas as Lord Ram, Kriti as Sita, and Sunny Singh as Lakshman. In the film, Saif Ali Khan is seen essaying the role of Lankesh. At the trailer launch today, the team of Adipurush gave a glimpse of the epic tale.
The leading lady of the movie, Kriti Sanon shared her experience of portraying the divine character of Mata Janaki. Talking about the same, she first greeted the audience saying 'Jai Siya Ram' and continued, " Sabse pehle aaj main bohot emotional hu, maine expect nahi kia tha, main bohot bar pehle bhi is stage pe aap logo k samne aai hu lekin aaj main bohot emotional thi jab hum sabne trailer dekha, we got goosebumps, we had emotional feelings because this is not only a film it's more than that for all of us". 
Thanking the director Om Raut for choosing her for the role she said, "first of all I would like to thank Om for letting me do this divine role, many big actors have still not got a chance to act for such a big role and you chose me for this. Thank You so much ke apne mje Janaki k kabil samjha. I feel very very blessed. Pure man se, pure shraddha se, pure respect se ye role nibhane ki koshish ki hai, Baki wo bhagwan hai hum insaan hai, koi bhul chuk ho to maaf kar dena."
Kriti continued, "Respect and shraddha pehle se to thi hi, lekin film k dauraan aur badhti gayi kyuki main aur is kirdar ko samjhti gayi. Ek bohot hi pure aur kind-hearted soul aur ek bohot strong mind ka jo combination hai, mere liye Janaki ka kirdar wo tha. I made me believe more on the pious relationship of Raghav and Janaki".
Promising to deliver grand visuals, Om Raut added, "Challenges are always there but that will only make our cinema better and journey stronger. Especially with a film like this, which is a first of its kind in India, as we have used technology that is seen in big Hollywood films like Marvels, DC and 'Avatar'." The film was initially set to arrive in cinema halls on August 11, 2022, but the release date was further pushed to January 12, 2023. Adipurush is now slated to hit the screens in 3D on June 16, 2023.