Divyansh Pandit's Short Film 'Pind Daan' Premiere: A Night of Glamour and Gripping Narratives
Mumbai  – Wild Buffaloes Entertainment was pleased to present the screening of the short film 'Pind Daan,' at Cinepolis Andheri . Pind Daan is directed, written, and produced by the talented Divyansh Pandit and Co Written by screenwriter Aamir Bengali. The screening promised to be a star-studded affair, with renowned filmmakers Abbas Mastan and industry stalwarts […]
Divyansh Pandit's Short Film 'Pind Daan' Premiere: A Night of Glamour and Gripping Narratives
Mumbai – Wild Buffaloes Entertainment was pleased to present the screening of the short film 'Pind Daan,' at Cinepolis Andheri . Pind Daan is directed, written, and produced by the talented Divyansh Pandit and Co Written by screenwriter Aamir Bengali. The screening promised to be a star-studded affair, with renowned filmmakers Abbas Mastan and industry stalwarts like singer Shaan, Sameer Anjaan, and others in attendance.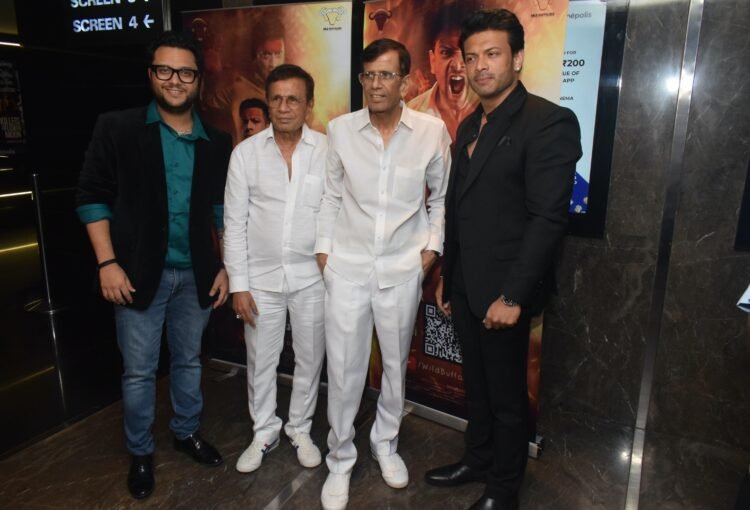 With the powerhouse of talent, actor Aadil Jaipuri, grandson of legendary lyricist Hasrat Jaipuri, and the veteran Yatin Karyekar in the lead roles alongside Divyangana Jain, 'Pind Daan' was released on November 9, 2023, on Wild Buffaloes entertainment's YouTube channel. The short film also features Aseema Bhatt as Mami, Aniket Sanghvi as Raju, Kalyani Sakhlunkar as Vidya, and more. The film, written, directed, and produced by Divyansh Pandit, explores the intricate narrative of Shiv Patil (Aadil Jaipuri), a young police officer with a dark past, in the Mumbai Police Department. The ensemble cast, including talented individuals like Ruturaj Palyekar, Navnaath Shrimadlika, Prince Paul, and others, is complemented by a creative team led by Sarfraz Ali Hasan Khan as the cinematographer, Shubhankar Jadhav as the editor, choreographer and Sr. Creative Producer, and musical contributions from Shaan, music composer Samarth Saxena, and Sameer. The film promises a captivating blend of storytelling and creative elements.
The story revolves around Shiv Patil, a young police officer in the Mumbai Police Department, who grapples with his turbulent emotions resulting from a dark past, while he simultaneously navigates his professional duty, his pregnant sister, and a shattered inner child.
On this Divyansh stated that Pind Daan explores the vulnerable side of a man in a Khakee uniform. He aimed to showcase the human side behind the invincible exterior of a cop, addressing relevant social issues in our society.