Jashn Agnihotri Delights in the Triumph of Her Latest Music Video '6 Ekkey'
Despite Jashn Agnihotri's previous experience in music videos, the fervor surrounding '6 Ekkey' is unlike anything she's ever encountered.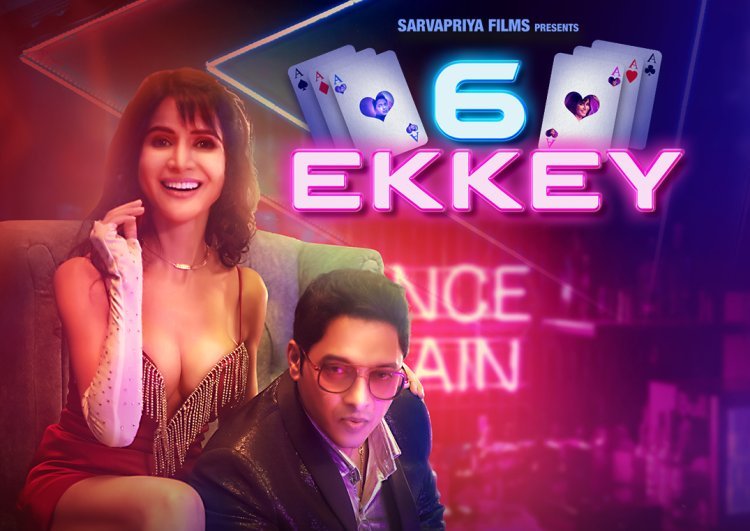 Jashn Agnihotri Delights in the Triumph of Her Latest Music Video '6 Ekkey'
Jashn Agnihotri, the talented actor, finds herself on cloud nine as her recently unveiled music video, '6 Ekkey,' garners substantial acclaim and adulation mere hours after its release. Rarely does a piece of work catapult to such instant stardom, but that's precisely the remarkable journey '6 Ekkey' has embarked upon since its debut at noon today. It has rapidly emerged as a darling among music enthusiasts.
The music video not only spotlights Jashn Agnihotri but also features the versatile actor Shreyas Talpade in the lead role. The palpable on-screen chemistry between Jashn Agnihotri and Shreyas Talpade is a testament to their dynamic performances. Produced under the esteemed banner of Sarvapriya Films, the music video owes its brilliance to the vision of veteran producer Shahid Anwar and the masterful direction of Rajiv S Ruia. The enchanting song, beautifully rendered by Swati Sharma, Rukhshar Bandhukia, and B Show, is brought to life by the evocative lyrics of Aarif Khan and Salim Khan. The groovy and captivating composition is the brainchild of Sameer Sen and B Show, with the meticulous post-production work handled by Santosh Valaboj and editing by Arun D Yadav. Notably, the music video also boasts Raj Nostrum in a pivotal role.
Despite Jashn Agnihotri's previous experience in music videos, the fervor surrounding '6 Ekkey' is unlike anything she's ever encountered. Jashn Agnihotri conveys her overwhelming gratitude, stating, "I am immensely moved by the response to my new song. It's profoundly gratifying to witness such love for my work. I extend my heartfelt thanks to all those who have embraced the song and appreciated my contribution."
Interestingly, Jashn Agnihotri embarked on her cinematic journey with Madhur Bhandarkar's film 'Indu Sarkar' (2017-18), where she featured in the song 'Yeh Pal' as a crooner. Subsequently, she secured roles in films such as 'Genius' and 'India Lockdown,' where her cameo appearances left a substantial impact. Her career blossomed further with appearances in numerous Hindi and Punjabi music videos. However, her experience with '6 Ekkey' stands out as truly unique.
Elaborating on her experience, Jashn Agnihotri remarked, "Working on '6 Ekkey' felt akin to being a part of a feature film. It offers a comprehensive package that compelled me to accept this music video. It's not merely a dance-centric or romantic song; it brims with drama, action, and suspense, rendering it truly distinctive. It's a delightful amalgamation of various elements, and while working on the song, it felt as if I was a part of a full-fledged feature film. So much unfolds within the song, making it an unforgettable experience for me. Surprisingly, even before commencing work on '6 Ekkey,' I had a strong feeling it would become a superhit. Every individual involved poured their heart and soul into making this song a true auditory and visual delight."
Jashn Agnihotri, an accomplished actor, model, and television host, has previously collaborated with Ayushmann Khurana in an Axe Deo music video and shared the screen with Prince Narula in a popular Punjabi music video. She made her debut in Punjabi cinema with 'Chan Tara' (2018), where she played a double role. Additionally, she starred in 'Jagga Jagravan Joga,' a film that was directly released on Amazon Prime. Her dual role in the theatrical release 'Kutte Fail' (2021) further showcased her versatility. Her recent portrayal of a possessive girlfriend in the horror-comedy film 'Thappa' on Zee5 garnered critical acclaim.
Despite her extensive repertoire of projects and collaborations with various actors, Jashn Agnihotri asserts that working with Shreyas Talpade on '6 Ekkey' was a grounding and magical experience. She effuses, "Despite his star status, Shreyas Talpade was incredibly kind and a joy to work with. It was an invaluable learning experience. Witnessing his work ethic and demeanor on set was truly inspiring. His genuine humility and talent underscore why he's a remarkable actor and an exceptional co-star. Collaborating with him left me in awe."
Presented by Zee Music, '6 Ekkey,' featuring Jashn Agnihotri and Shreyas Talpade, is a unique music video with lyrics in three languages: Hindi, Telugu, and Tamil. It promises to be a visual extravaganza for music aficionados.
To watch the music video, follow this link: 6 Ekkey Music Video.