'Mark Antony' Sets the Stage for a Cinematic Spectacle Combining Gangster Drama and Sci-Fi Time Travel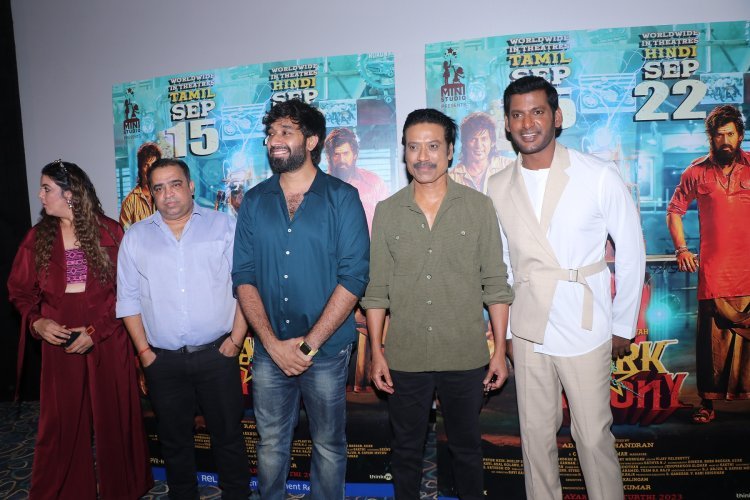 'Mark Antony' Sets the Stage for a Cinematic Spectacle Combining Gangster Drama and Sci-Fi Time Travel
The anticipation for "Mark Antony," the upcoming pan-Indian film directed by Adhik Ravichandran, has reached a fever pitch following the release of its official Tamil and Telugu trailer on September 3rd. Starring a power-packed ensemble cast including Vishal, S.J.Suryah, Suneel, Selvaraghavan, Ritu Varma, and more, the film promises to deliver a unique amalgamation of gangster drama and sci-fi time travel. With the musical magic of G.V.Prakash Kumar, "Mark Antony" is all set to make waves in the world of South and Indian cinema. Producer S.Vinod Kumar has invested significantly in this ambitious project, and audiences can mark their calendars for a release on September 15th in South Indian languages, followed by a Hindi release on September 22nd.
As the trailer unfolds, viewers are treated to glimpses of the immersive world of Mark Antony, complete with heart-pounding action sequences and a narrative that guarantees to keep audiences captivated from start to finish.
Vishal, reflecting on his experience with the film, remarks, "Working on 'Mark Antony' has been an exhilarating journey for me as an actor. This trailer is just a taste of the electrifying universe Adhik Ravichandran has crafted. Prepare yourselves for a never-before-seen fusion of gangster drama and sci-fi time travel that will have you on the edge of your seats."
Director Adhik Ravichandran shares his excitement, stating, "I am as eager as S.J. Suryah to share this cinematic adventure with the audience."