Mohsin Khan and Anvarul Hasan Annu attend the music launch of 'Dooriyan' alongside Uorfi Javed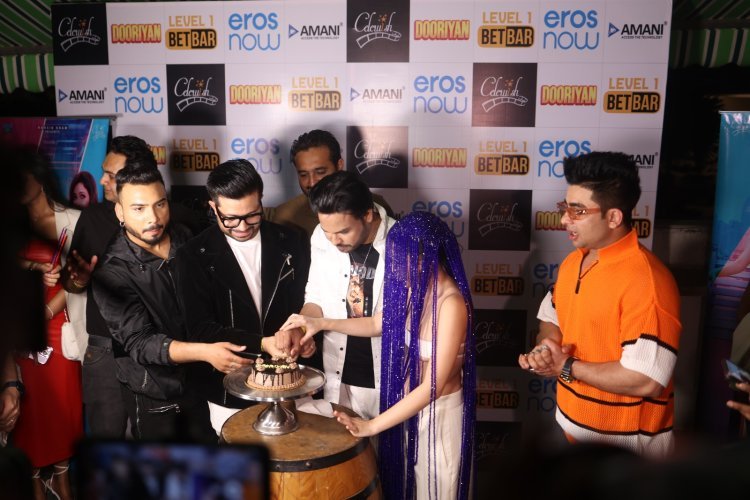 Mohsin Khan and Anvarul Hasan Annu attend the music launch of 'Dooriyan' alongside Uorfi Javed
Urfi aka Uorfi Javed, looks stunning at the music launch of her song 'Dooriyan'; the star was seen cutting a cake with producer Mohsin Khan
Urfi Javed, known for her DIY clothing and her appearance on the streets of Mumbai in a distinctive outfit, grabs all the attention of the audience and paps are often seen waiting for her public appearance. Also, her stints in music videos like 'Haye Haye Yeh Majboori' has sought lots of appreciation from the viewers. Now the diva is back with yet another blockbuster music video titled "Dooriyan." alongside Neraj Kumaar.
Uorfi Javed was spotted at a club in Mumbai for the launch of Dooriyan's Music Video the diva donned very lavish white suit pants and a blue pearls crown covering her full body, which was a wholesome top-notch outfit made by Uorfi and the media and guests went gaga over it, the music launch was immensely appreciated by all and which has given an amazing boom on the song.
The makers of the song attended the event, and CEO of Celewish Media Pvt Ltd & producer Mohsin Khan, and director Anvarul Hasan Annu was furthermore seen as excited about the launch with Uorfi, the full team was very overwhelmed while cutting the cake at the venue. People from all over the nation were waiting for the song and as soon as the song got released the viewers started showering in huge numbers and the people's reaction to the song is all positive.
The song has been released on the official youtube channel of Eros Now. The response to the music video is tremendous and got more than 1.6M views within 24 hrs of release, stay tuned for more updates.