The Epitome of Style: OMG Face of the Year Season 2 Unveils a Night of Glamour
Mumbai (Maharashtra) [India], August 11:  OMG Face of The Year Season 2, the much-awaited India's First Digital talent hunt show organised by BlancKanvas Media, came to a dazzling close on a glittering Thursday evening in the presence of a galaxy of figures from the world of entertainment and glamour.   The second season of OMG […]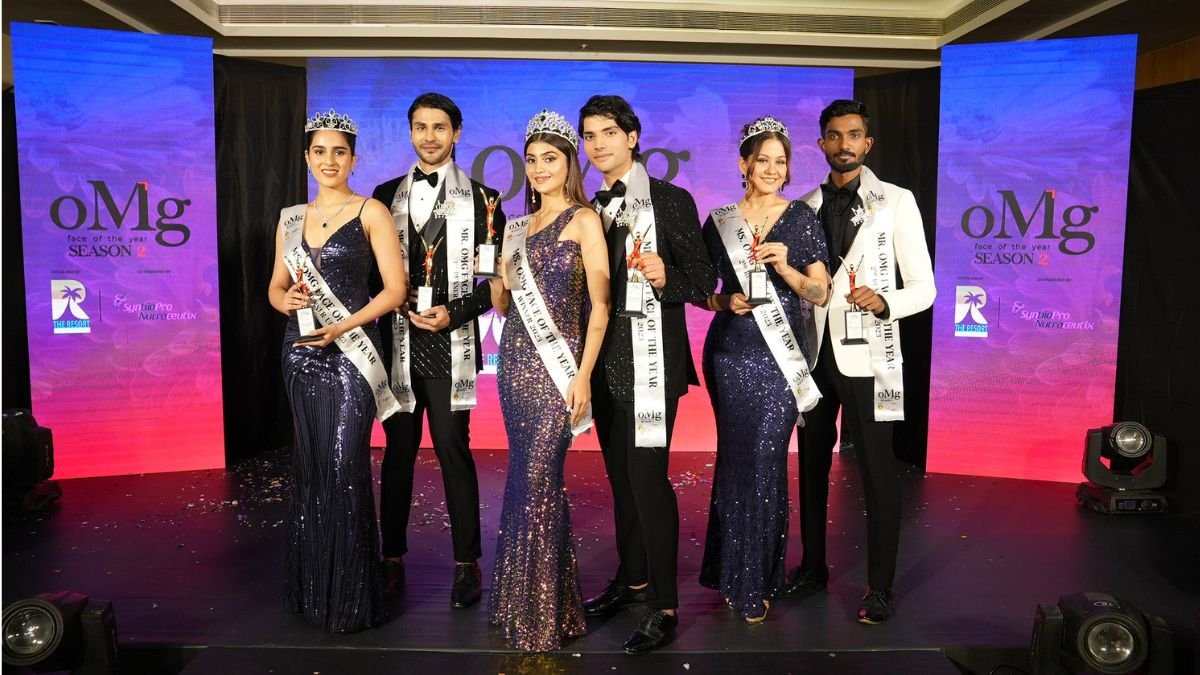 The Epitome of Style: OMG Face of the Year Season 2 Unveils a Night of Glamour
Mumbai (Maharashtra) [India], August 11: OMG Face of The Year Season 2, the much-awaited India's First Digital talent hunt show organised by BlancKanvas Media, came to a dazzling close on a glittering Thursday evening in the presence of a galaxy of figures from the world of entertainment and glamour.
The second season of OMG Face of The Year, not only shattered all records but also provided an unmatched platform for emerging talent to showcase their talent and shine. Far from being merely a competition, the second season transformed itself into an exhilarating journey of aspirations and the determination to succeed despite all odds.
Set against the opulent backdrop of The Resort Mumbai our Powered by sponsor, OMG Face of The Year season 2 oozed grandeur, providing the perfect stage for an unforgettable and glamorous spectacle. The grand evening had an abundance of fun, drama and light-hearted moments that left the audience enthralled. They also witnessed a rollercoaster of emotions as the contestants presented their skills in a whirlwind of glamour, talent, and entertainment.
The eminent jury panel, featuring luminaries such as celebrity and fashion photographer Dabboo Ratnani, noted actor Arti Singh, well-known casting director Vicky Sidana, accomplished choreographer Suresh Mukund, Megha Agarwal from Atrangii, versatile actor Mir Sarwar, and Amit Tyagi of news channel Aaj Tak, guided the participants as they took their first steps in the enchanting but demanding world of glamour, adding a new and exciting dimension to the competition.
Founder of BlancKanvas Media and the brain behind OMG Face of The Year, Parimal Mehta, said, "What an evening this has been. We are truly thrilled with the amazing response to OMG Face of The Year season 2 from the participants, as well as our noted jury members, the sponsors, and everyone else who has made this fascinating evening possible. This season has been an exhilarating journey of discovery and excellence, especially the incredible talent and dedication of these highly talented youngsters. We take pride in providing them a platform and help transform their dreams."
Renowned designers brought their creative genius to the stage of OMG Face of The Year season 2, enriching the show's aesthetics. The introduction round designers were Taof by Roohi Marjara and Pour Lui, while the finale designers were Sven and Kommal Sood. The House of NM and Juice by Ranjit Rodricks were associated as the resort wear designers while Riana adorned the role of jewellery partner.
With their outstanding contributions, stylists Kavita Kharayat, Sunny Kamble and Orane International Malad for Hair and Makeup helped in crafting a visually stunning spectacle.
Co-powered partner SynbioPro Nutra played a pivotal role in ensuring the well-being of the contestants, emphasising the event's holistic approach to nurturing talent.
OMG Face of The Year season 2 also received overwhelming support from major partners, including Channel Partner Atrangii Tv & App, Hydration Partner Cancro Drink, Happiness Partner Schmitten Chocolates, Crown & Trophy partner Svar Fine Jewelry, Radio Partner Radio City 91.1 FM, Fragrance partner Naso profumi, Grooming Partner Blanckanvas edu, Style partner Horra Luxury, Pageant partner Rubaru Mr. India, Gifting partner Herbal Botanica, Print Partner Mid Day india, Outdoor partner Bright outdoor media, Digital partners daily hunt app, Filmy Beat, Bold Sky, Short video partner Josh, HMU partner Orance International, EV partner Vaan Mobility, Wearable Partner Swiss Military Audio, Ayurveda Partner Think Ayurveda and youth Airline Partner Spice Jet, amplifying its reach. Collaborations with media giants Bharat 24, First India, and saas bahu aur betiyan ensured that the excitement reached every corner of the nation.
And last but not the least, special Thanks to Abhijeet Adurkar from the Resort Mumbai, Suzad Iqbal Khan, Sayan sur roy , Kapil Charanya and Kalpesh Goswami, Achla Sachdev, and Vahbiz Mehta.
For more updates and exclusive behind-the-scenes content, and to dive into the extraordinary journey of OMG Face of The Year Season 2, visit our official website and follow us on social media.