"The Kerala Story" Actress Yogita Bihani delivers a punch with her monologue in the Film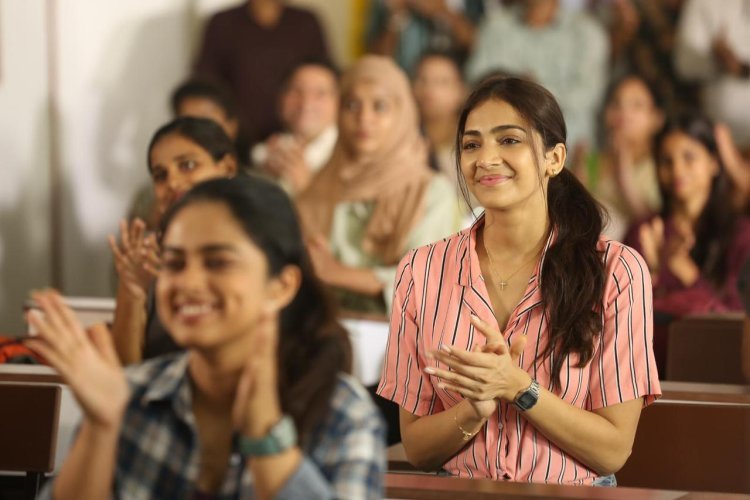 "The Kerala Story" Actress Yogita Bihani delivers a punch with her monologue in the Film
"The Kerala Story' hit the theatres today and has been applauded for its bold representation of a very sensitive topic and commendable performance of the lead actresses. Yogita Bihani packed a punch with her fiery monologue as the determined Nimah Matthews questioning the establishment and society after she is wronged, violated and left to fend for herself that rings in your ears for a while. She emotes and expresses flawlessly such that Nimah becomes your next door girl who transitions from a no nonsense toughie difficult to influence to a woman in despair when her spirit is battered in a heinous manner. At the end she gathers herself and emerges as the determined one ready to fight for others who are wronged like her

She says, "I am overwhelmed by the response to our film. As an actor, I am glad to play Nimah Mathews who speaks out after going through life altering pain forcing society to ponder on justice, freedom of choice and safety for women. The fact that it happened to one was enough for me to take this up and do my part to bring awareness so that we collectively take steps towards achieving a harmonious trustable atmosphere for all women irrespective of caste, creed or religion. "

The Kerala Story is a fearless presentation by Vipul Shah 's Sunshine Pictures helmed by award winning director Sudipto Sen focussing on the lives of 3 girls among the thousands who have been swayed, deceived and misled into the nefarious plan of terrorism. It also stars Adah Sharma, Siddhi Idnani and Sonia Balani in key roles.

Yogita made her debut on the big screen last year with an impactful performance as Chanda in the multi starrer Vikram Vedha last year helmed by Hrithik Roshan and Saif Ali Khan. Her acting career started with the television soap Dil Hi Toh Hai by Ekta Kapoor which went on to stream 3 seasons on the web due to popular demand. She then played the role of a cinematographer filming Anil Kapoor and Anurag Kashyap in the thriller AK vs AK streaming on Netflix. She was last seen with Kapil Sharma and Guru Randhawa in the very popular music video "Alone"

This tall leggy beauty Yogita is an avid Kathak dancer, travel freak and a compulsive foodie who has been the face of several brands like Head & Shoulders, Tata Safari, Amazon and Kalyan Jewelers in their TV Commercials.