Zee Punjabi Channel Brings Entertainment Closer to the Audience with an Exciting Event and Canter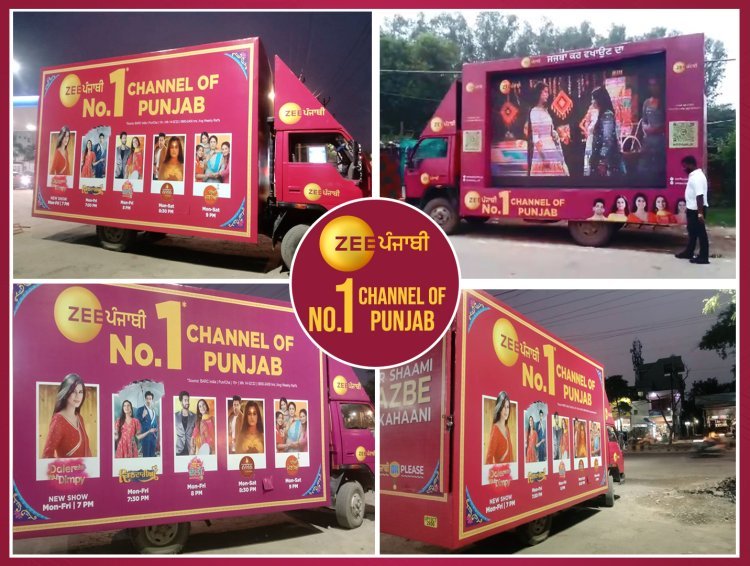 Zee Punjabi Channel Brings Entertainment Closer to the Audience with an Exciting Event and Canter
Chandigarh, 21st July 2023: Zee Punjabi Channel, the leading name in Punjabi entertainment, is thrilled to announce a revolutionary and interactive event that will bring entertainment closer to the audience than ever before. With the launch of the "Zee Punjabi Canter," the channel aims to engage and delight its viewers in Jalandhar and Ludhiana through a unique, on-ground experience like no other.
The Zee Punjabi Canter event is set to traverse the vibrant streets of Jalandhar and Ludhiana, making it a point to reach every corner and connect with the enthusiastic Punjabi audience. The central focus of this innovative event is the LED screens that will be mounted on the canter. These screens will showcase promos, snippets, and exciting highlights from some of the most loved Zee Punjabi shows "Daler Dimpy" "Nayan-Jo Vekhe Unvekha", "Geet Dholi" and the romantic drama "Dildariyan," a heartwarming family saga, will undoubtedly draw people towards the canter out of sheer curiosity.
As the canter proceeds, a skilled and energetic host will take the lead, engaging the crowd with interactive sessions and exciting quizzes based on Zee Punjabi shows. This lively host will pose questions related to the characters, storylines, and unforgettable moments from the channel's popular shows. Participants who answer correctly will be rewarded with Zee Punjabi merchandise and exclusive goodies, adding a delightful twist to the event.
Don't miss this unique event in your city! Witness Zee Punjabi Canter, experience interactive entertainment, and win exciting rewards. Stay updated on the Canter's schedule on our official social media handles.