Urvashi Rautela Gives Back To Back To Major Blockbuster Hits In Just A Week With Hum To Deewane and Cult Mama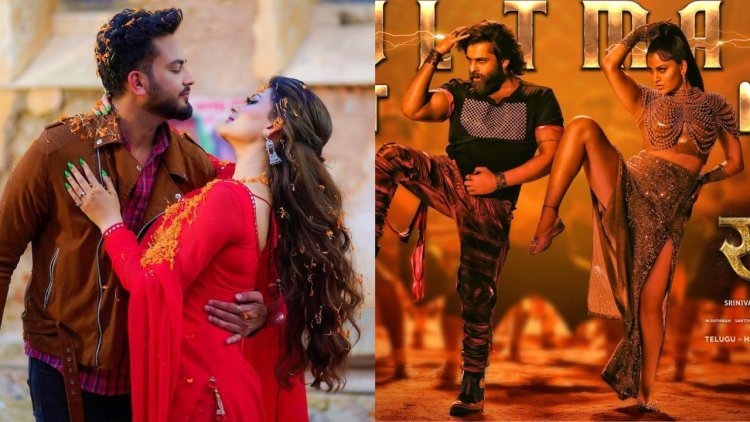 Urvashi Rautela Gives Back To Back To Major Blockbuster Hits In Just A Week With Hum To Deewane and Cult Mama
Actress Urvashi Rautela, who is India's No. 1 highest-paid actress most followed and loved global celebrity as per Forbes India, and Bollywood's youngest superstar has no way to look back in making everyone proud of herself. Urvashi Rautela has managed to conquer both with her undeniable talent and unwavering dedication. Actress Urvashi Rautela, a name that resonates with glamour and talent, has proven once again why she is considered one of the most promising stars in the industry. In a remarkable feat, Urvashi has delivered not one but two back-to-back blockbusters within just one week, leaving her fans and critics in awe of her remarkable skills.

The first of these two exceptional hits was "Hum TO Deewane," a hardcore romantic title track of Urvashi alongside the popular YouTuber Elvish Yadav. The song took the massive storm all over by being the world most viewed video in less then 24 hrs, The song was trending for almost over 5 days on No 1 and apart from that in less that a week the song surpassed over 30 Million Views. Urvashi's captivating performance in the song and the electrifying chemistry between the duo was lauded by fans and critics all over that it became the talking point of the town. Her ability to immerse herself into her character and bring it to life on screen is truly commendable.

https://www.youtube.com/watch?v=Itntw6h2yEA
https://www.instagram.com/p/CxYDSviBSut/
But the actress didn't stop there. Simultaneously, Urvashi ventured into the South Indian music industry with a mesmerizing music video titled "Cult Mama," choreographed by none other than Oscar-winning choreographer of Natu Natu Prem Rakshit. This music video featured Urvashi alongside the talented South Indian actor Ram Pothineni. The song's catchy beats and Urvashi's scintillating dance moves captured the hearts of music lovers across the globe and has crossed over 20 Million views all over. Urvashi's collaboration with Ram Pothineni and Natu Natu Prem Rakshit was a match made in entertainment heaven. The music video was an absolute visual delight, with stunning choreography and breathtaking visuals that left the audience spellbound.
https://www.youtube.com/@jungleemusictelugu
https://www.instagram.com/p/CxVtE3MP195/
This unprecedented success has catapulted Urvashi Rautela into the spotlight once again, and she is now a force to be reckoned with in the eyes of directors and producers. Her ability to consistently deliver blockbuster hits and her undeniable talent have made her one of the most sought-after actresses in the industry. Directors and producers are lining up to collaborate with her, recognizing her potential to elevate any project she's a part of.
With her recent back-to-back hits, she has solidified her position as an actor par excellence and a dancer extraordinaire. Urvashi's fans can't wait to see what she has in store next, and the industry is eagerly awaiting her next big project.