Urvashi Rautela Shares Her Fitness Regime Video On Social Media After A Long Times Aces In An Intense High Weight Workout Sessions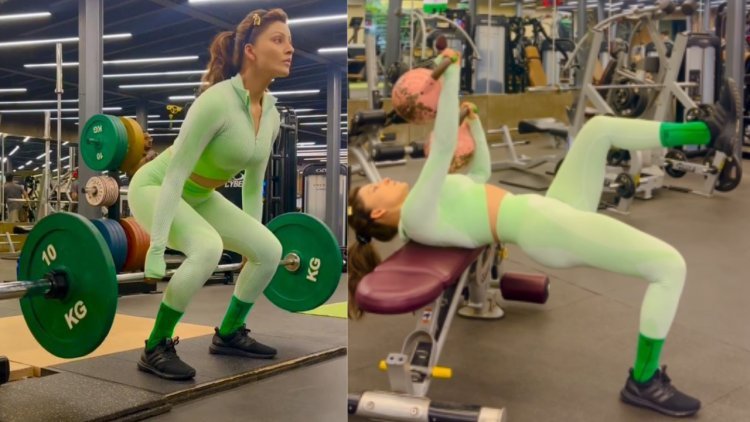 Urvashi Rautela Shares Her Fitness Regime Video On Social Media After A Long Times Aces In An Intense High Weight Workout Sessions
In the world of fitness and inspiration, Urvashi Rautela has established herself as a force to be reckoned with. The actress known for her dedication to a healthy lifestyle, recently shared a few videos of her workout motivation on her social media after a long period and that has left her fans and fitness enthusiasts awe-struck. In this video, she demonstrated a remarkable feat of strength and determination, performing a behind-the-back deadlift with 50kgs which is 30kgs of the rod and 20kgs weight. Along with 90-degree single-arm Kettlebell press of 25Kgs

Urvashi took to her social media and shared these amazing workouts with all her fans to motivate them. In both exercises, we could see that it requires immense strength, balance, and precision. Urvashi's perfect form and determination were on full display as she effortlessly lifted the weight, inspiring her fans to push their limits and strive for greatness.

Urvashi Rautela is not only known for her fitness regime but also for her impeccable fashion sense, even in the gym. She was seen wearing a stunning gym ensemble that perfectly blended style with functionality. Urvashi donned lemon green thigh-high yoga pants that accentuated her toned legs and a mini crop full-sleeves top that highlighted her well-defined midriff. To complete the look, she opted for dark green socks and black shoes, ensuring comfort and support during her intense workout session. Her hair was tied up in a high ponytail and with no makeup look Urvashi looked glowing and elegant as always.

https://www.instagram.com/p/CwvYJBTB9C5/

https://www.instagram.com/p/CwuSSKxhBV5/

Urvashi's dedication and focus in this video are contagious, reminding us all that with determination and hard work, we can overcome any obstacle in our fitness journey. She is serving us major Fitness Goals.

So, the next time you need a boost of motivation, turn to Urvashi Rautela's workout videos and let her dedication inspire you to reach new heights in your fitness journey.